MAPPA CELESTE Installation
Inspired by the blue sky studded with stars painted by Giotto, of the famous Scrovegni Chapel, a Unesco World Heritage Site. This project was commissioned by the MUST Territory Museum of the city of Faenza, by the architect Ennio Nonni
I had the vault colored in a magical cobalt blue and then I have tightened 37 steel threads where more than 1200 pieces of porcelain were intertwined. I tried to remind those inside the museum of the splendid night skies that humanity no longer stops to see filled with luminous screens.
PRIMORDIAL
table-sculpture
The new HIBRID Series is made in collaboration with the Italian design studio LINEA SEBASTIANO by Enrico Negrini designer and forging expert.
"… After the Bing Bang 9.2 billion years ago, meteorites and ice comets supplied the Earth with a huge amount of water that created oceans, while volcanic activity and water vapor created a primitive atmosphere. They merged into supercontinents leading to the creation of life…"
A special table for a special room. Porcelain and iron, completely handmade, unique piece that is part of a series of bespoke furniture made on request.
WEDDING MANTLE Installation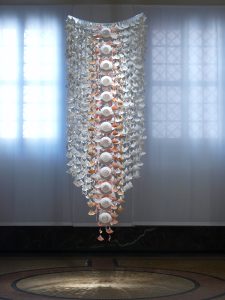 Work commissioned by the Banca di Romagna, Italian bank for the headquarters in the city of Faenza.
Inspired by the ritual and fantastic dress. A mix of cultures: From the ceremonial garments made of feathers for the weddings of the Aztecs, to the festive clothes for the carnival of the Venetian people. H260cm x 90cm x 60cm. Composed of a strip of translucent rounds and more than 1300 porcelain triangles.
JEWELERY PROJECTS for private collectors (PARADIS broche)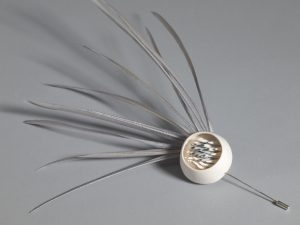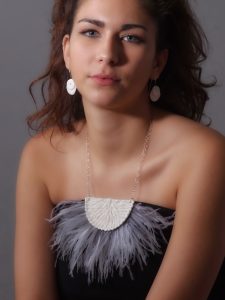 I have made a series of accessories inspired by my life between two seas, the European and South American continents.
Series inspired by the Mediterranean Sea, the Andean mountains, ancestral fabrics, extraordinary nature, stories and legends.
Commissioned by private collectors and galleries.
Unique pieces, made entirely by hand, combined with other materials such as feathers, silver or glass paste.
Most are made with the Neriage technique, colored porcelain mosaic inlay and gold or platinum finishes.
Contact
(+39) 3337228967
marthapachon7@gmail.com
Location
Via Laghi 51A – 48018, Faenza (Ravenna) ITALY
Copyright Ⓡ 2023 | Martha Pachon Rodriguez | Via Laghi 51A – 48018, Faenza (RA) Italy | Cookie & Privacy Policy | P. IVA: IT02616390395